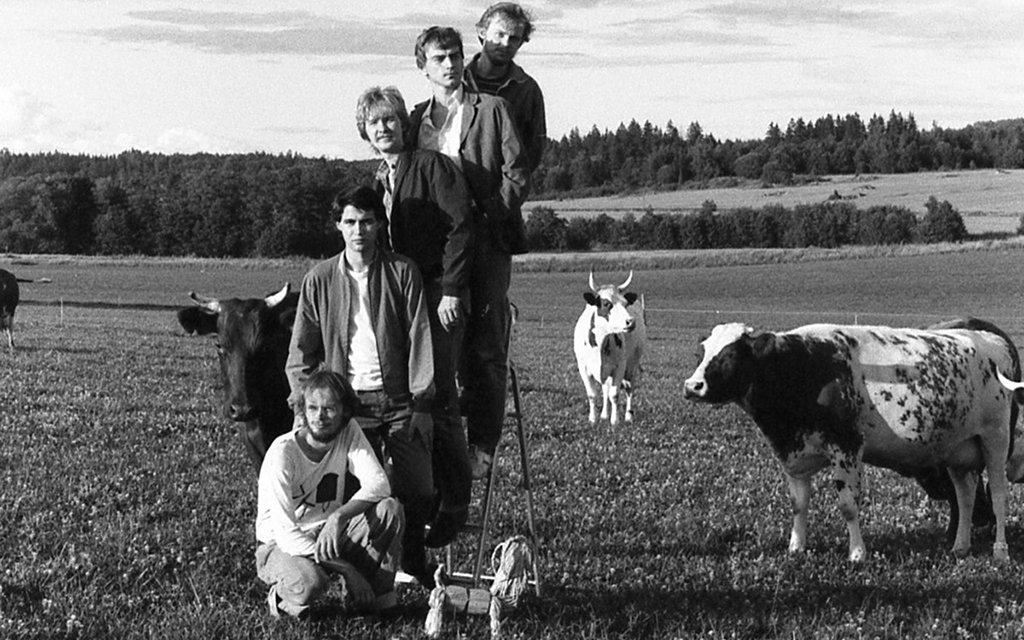 Zut un feu rouge was formed in Linköping, Sweden, in 1980. The five members used their varying musical abilities and mutual broad cultural interests to improvise and experiment. Their debut project was the sound and light show From the Heart of the Coincidence of Truth in May 1980.
Audiences during their live performances either felt they had experienced something playful and spontaneous, or something terribly pretentious and calculated. One reviewer wrote: …a music that was as highly-strung and ridiculous as the group's outfits… Yet another one reported: The feeling of being in a beautiful summer meadow that suddenly turns into a junk-yard, is one that I, for obvious reasons, have never before experienced.
Zut challenged their own as well as other people's perception of what music could, or should, be. This was evident in the composition A Morning in the Waking Dream of a Sleeping Man which was radio broadcasted in 1982, also in the first Organic Soundscape project where three electric organs became active parts of the ecosystem for three hours.
In 1983 they released their first record. It was called Kafka vs Chaplin and contained six compositions. The next record, Who's Afreud, was an LP and partly a concept album; one side of the 1985 record had a story theme called Seven sleepers of Ephesus. The following year they also released a compilation cassette called Sweet Zutrospectacles that included previously unreleased live and studio recordings.
In 2006, Zut compiled a CD, Explain this country, that included their vinyl records plus some unreleased live, jam and radio material.
Between 2008 and 2011, the band produced rural rock videos to accompany three of their old recordings, and in 2010 the band returned to live performances and began song writing for a new LP album, Childwoods, which appeared in 2019.
Members: Lars Druid; drums and percussion, Klaus Fischer; alto sax, Lars "Lachen" Jonsson; vocals, keyboards, strings, Gunnar Wennerholm; bass, tenor sax, Mats Wirström; guitar, vocals
Buy music by Zut un feu rouge.